Trip issues can greatly impact the smooth operation of any travel service, and fines applied for driver no shows, lateness, and meet and greets can exacerbate these challenges. One of the primary concerns is driver no shows, where the scheduled driver fails to arrive at the designated pick-up point on time. This can lead to significant inconvenience for passengers, especially in situations where they have tight schedules or important appointments. with us applying fines for such occurrences should encourage you and the drivers to be more punctual and accountable, ultimately improving the overall reliability of the travel service.
Lateness is another prevalent trip issue that can cause disruptions to travel plans. Whether it's due to traffic, unforeseen circumstances, or lack of punctuality on the part of the driver, delays can lead to frustrated customers and missed connections. By us implementing fines for lateness, you can encourage drivers to plan their routes better, account for potential delays, and prioritise timeliness, thus enhancing customer satisfaction. Additionally, fines can serve as a deterrent against chronic lateness, helping maintain a more efficient and dependable travel service overall.
Meet and greets can also be a source of trip issues, particularly when the designated greeter is unavailable or fails to adequately assist passengers upon arrival. This lack of support can be particularly problematic for those unfamiliar with the destination or those requiring special assistance. By us enforcing fines for inadequate meet and greet services, you can motivate your staff to be attentive, courteous, and readily available to help travelers settle in seamlessly, making a positive first impression and setting the tone for a successful trip.
The table will show all fines applied by us, which should then give you a clear indication of what needs improving in real time, thus hopefully should allow your company to become better on levels of quality and customer satisfaction.
To access Trip Issues, log into your dashboard. You'll find Trip Issues & Ratings in the menu on the left side: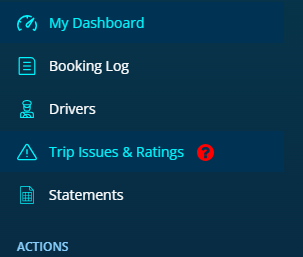 Click on this to see the table of fines for your account.