How to set up your Wheelchair Accessible Vehicles (WAV)
As you know, Wheelchair Accessible Vehicles (WAVs) are cars (eg VW Caddy) that have a ramp to enable a passenger in a wheelchair to be easily onboarded and transported.

How can you add your WAV?
Just click 'Add Fleet Type' in the top right hand corner of your admin.minicabit.com portal - here, you can add your WAV profiles, whether for
- Standard (e.g. VW Caddy)
- Executive (e.g. Mercedes V-Class)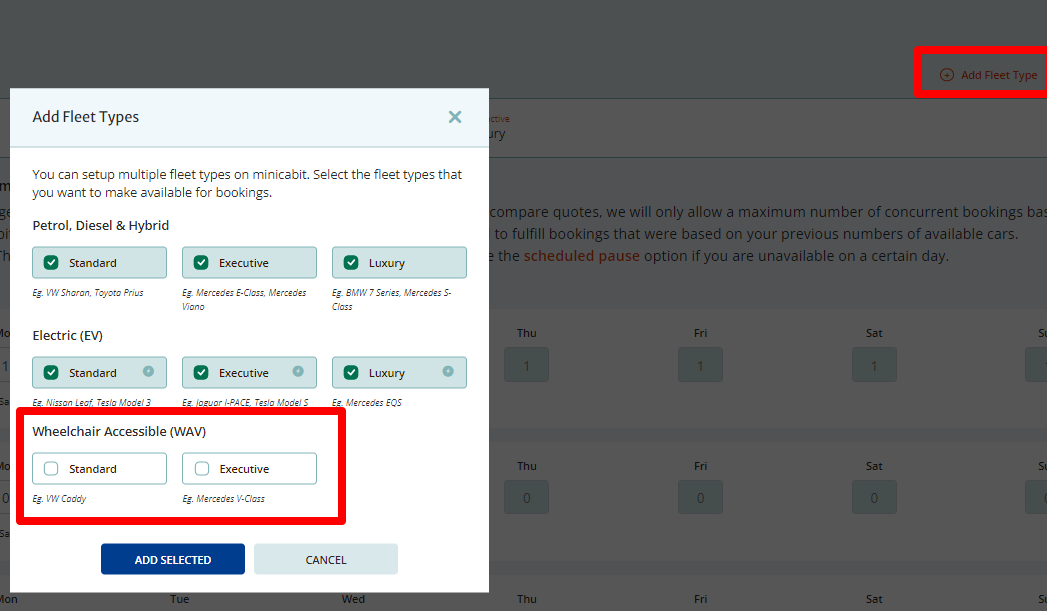 How do you set your WAV pricing?
To avoid having to enter new pricing for WAVs, you can simply set them at the same Mileage rates as your Petrol/Diesel/Hybrid fleets, or even 5% or 10% more.
Alternatively, set bespoke pricing for WAVs as a last resort.

Per Mile Prices (PMP)
How do you set your availability for each type of Wheelchair Accessible Vehicle?
You can separately manage your availability for WAVs just as you do for your other car types.
i) Number of Vehicles
Remember, the no. of vehicles you need to enter per day is based on the no. of WAVs you can make available in any one hour for minicabit jobs. Since customers booking your WAVs will always expect a fully wheelchair accessible vehicle to turn up, please add the no. of WAVs you can realistically always dispatch for minicabit's WAV bookings

The following settings can also be separately applied for your WAV cars - please email admininfo@minicabit.com with the details you want us to apply specifically for any WAV vehicles you have :
ii) Notice Period:
The minimum notice you need to receive jobs
iii) Trip Range
Please let us know if this needs to be adjusted for WAVs
iv) Operating Hours
You can tell us the pickup times by day of week your WAV is available for, including if it's 24/7
v) Availability
You need to let us know the availability of your WAV vehicles
How will I know if the booking is for a WAV?
This will be indicated in the booking profile on your admin.minicabit.com portal and our confirmation emails. You can now also search for bookings relating to each car type that you've set up via your dashboard.